Inicio
Luego oprima Go-Live

Chat - Mientras escuchas
el juego por internet
Cartas
Décimo Aniversario
Fotos Recientes
Archivo
Tabla de Posiones
(www.bsnpr.com)
Estadísticas
(www.bsnpr.com)
Itinerario
Enlaces
Envíenos su Mensaje
Arquelio Torres Ramírez
Nuestra Plena
Foro

(www.bsnpr.com)
RIVERA WINS CAA PLAYER OF THE WEEK HONOR
---

Hempstead, NY -- Senior guard Carlos Rivera (San German, PR - pictured) was named the Player of the Week by the Colonial Athletic Association (CAA) and the Metropolitan Basketball Writers Association (MBWA), it was announced today.

Rivera earned the honor on the strength of his 37-point explosion in the Pride's 98-78 win over James Madison in the regular season finale on Saturday. Rivera shot 12-16 from the floor, 6-7 from three-point territory and 7-7 at the foul line in the contest. The 37 points bettered his previous career high by 11 and represented the highest point total for any Hofstra player since Speedy Claxton scored 40 twice in the 1999-2000 season. The six three-pointers also tied Rivera's career high and was one shy of the school record for a single game.

In the Pride's two wins last week, Rivera averaged 26.0 points and 5.5 assists. His CAA Player of the Week Award was the first of his career (he was named the Rookie of the Week twice as a freshman), and made him the third different Hofstra player to win the award this season. Senior guard Loren Stokes (Buffalo, NY) earned CAA Player of the Week accolades twice, while junior guard Antoine Agudio (Huntington Station, NY) won it once as well.

The Presto Sports/MBWA Player of the Week is chosen from Metropolitan New York area schools in all three divisions and is voted on by a panel of local media. Rivera became the second Hofstra player to earn that honor this season, as Stokes was also honored on Feb. 12.

Rivera, Stokes and Agudio enter the postseason as the highest scoring three-man backcourt combination in the country at 54.2 points per game. Stokes (20.8 ppg) and Agudio (20.5 ppg) are the only teammates in the nation who both average over 20 points per game, while Rivera (12.9 ppg) is also in double figures and has an assist-to-turnover ratio of nearly 2:1 (121 assists, 65 turnovers).

Hofstra (22-8, 14-4 CAA), which finished third in the CAA regular season standings, will open play at the CAA Tournament in Richmond, Virginia on Saturday at 8:30 p.m., when it faces the winner of Friday night's game between sixth-seeded George Mason and 11th-seeded James Madison.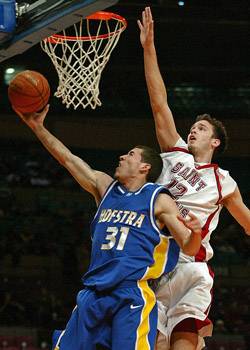 27 de febrero de 2007
Harrisonburg, VA --
Senior guard Carlos Rivera (San German, PR - pictured) scored a career-high 37 points, senior guard Loren Stokes (Buffalo, NY) had 27, and junior guard Antoine Agudio (Huntington Station, NY) added 17 to lead the Hofstra Men's Basketball team to a 98-78 win over James Madison in the regular season finale for both teams on Saturday at the JMU Convocation Center.
With the win, the Pride closes out its regular season with a 22-8 record, including 14-4 in the CAA, good for third place heading into next weekend's CAA Tournament It is the third year in a row that Hofstra has won 20 games during the regular season. James Madison slips to 7-22 overall and 4-14 in the CAA and will be the 11th seed in the CAA Tournament next week.
Rivera broke his previous career high of 26, which he set earlier this year against Siena. His 37 points were the most for a Hofstra player since Speedy Claxton scored 40 against Hartford in the 1999-2000 season. He also matched his career high with six three-pointers, one shy of the school record.
Agudio also broke the school record for three-pointers in a season for the third time in his career when he hit his 92nd in the first half (he ended with five threes to stretch his total to 95). The old record was 81, held by Demetrius Dudley (1992-93). Agudio made 82 as a freshman in 2004-05, then broke his own record with 91 last year.
Stokes, meanwhile, raised his career total to 2,120 points, moving past Rich Laurel (2,102 points) and into second place on the Pride's all-time scoring list by halftime. Stokes trails only Steve Nisenson (2,222 points), who played for three seasons at Hofstra from 1962-65.
Hofstra's three guards came into the game as the highest scoring backcourt trio in the country at 53.2 points per game and easily eclipsed that total with their 81 on Saturday (at one point the three of them combined for 54 straight Hofstra points). The highest total that they had ever previously combined for in a game was 74 in a loss at Towson last year. The Pride also tied the school record for three-pointers in a game with 15.
Hofstra jumped out to an 8-2 lead early and maintained its lead for the remainder of the first half. The Dukes got as close as one point on three occasions, the last coming at 37-36 with 1:45 left, but Rivera hit a tough 15-foot bank shot and Stokes converted on an old-fashioned three-point play to give Hofstra a 42-36 lead at the break.
The Dukes were within 64-59 with 11:17 left, but Rivera, Agudio and Stokes each hit three-pointers on consecutive possessions to get the lead up to 73-60, and the Pride was never threatened again.
The Pride shot 63.5 percent from the floor, its first time over 60 percent in the last three seasons. Rivera shot 12-16 from the floor and 6-7 from three-point territory, while Stokes was 8-10 from the floor. Agudio was 5-9 from beyond the arc. James Madison was led by forward Terrance Carter with 25.
Hofstra will be the three seed in the CAA Tournament next weekend at Richmond Coliseum and will open play at 8:30 p.m. on Saturday, March 3 against the winner of the Friday night game between #6 George Mason and #11 James Madison. The winner of Hofstra's quarterfinal contest will advance to the semifinals on Sunday at 5:30 p.m., with the championship taking place on Monday night at 7 p.m. on ESPN.
PRIDE PROFILE: CARLOS RIVERA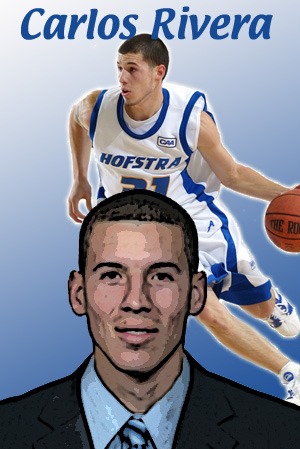 Senior guard Carlos Rivera has earned the highest possible compliment in sports during his career on the Hofstra Men's Basketball team. He has become the ultimate teammate.

Rivera, Loren Stokes and Antoine Agudio all came into Hofstra in the same freshman class in 2003-04, and are now part of the highest scoring three-man backcourt combination in the country. Stokes and Agudio have since drawn most of the accolades, leading many to forget that Rivera was the one who came in as a freshman and stepped right into the starting line-up.

Agudio ended up breaking his finger coming off the bench in the Pride's first exhibition game and settled for a medical redshirt. Stokes started slowly, averaging 4.6 points per game coming off the bench for his first eight collegiate contests before moving in the starting line-up and never coming out (except for one game against Syracuse this year when he was hooked up to an i.v. as the game tipped off).

Meanwhile, Rivera was making an early run at the CAA Rookie of the Year Award as a freshman. He put on a shooting clinic in an 81-64 rout of St. John's, scoring 20 points on 7-8 shooting from the floor (5-6 from three-point territory). He buried the game-winning three-pointer at the buzzer in a road win over Columbia, then hit six three-pointers in a home win over VCU, one shy of the school record.

His promising freshman season, though, was derailed late in a home win over Delaware in February. He made a hard cut the basket, and ended up crumpled in a heap near the baseline with a torn anterior cruciate ligament.

"I knew right away what it was," said Rivera, who had torn his ACL once before while in high school. "It was the worst feeling."

Rivera's sophomore season was a struggle, as he dealt with lingering tendonitis in his injured knee, and then a sprain in his other knee which kept him out of the line-up for four games. His scoring average dropped from 10.8 to 7.4, and his shooting percentage fell to just 36.5.

"It was a long year for me," Rivera admits. "I never really felt healthy, and just when I started to feel better, it would act up again."

Rivera had to adjust to not having the same lift or the same quickness that he had before his knee injuries. Meanwhile, Stokes (18.3 ppg) and Agudio (15.1 ppg) were emerging as a pair of dynamic scorers. So Rivera learned to defer and recalibrate his game to become more of what's become known as a "glue guy". In other words, someone who does all the little things to hold a team together.

When he became healthy again as a junior, Rivera took over more of the point guard responsibilities, allowing Stokes to play off the ball a little more. His assist to turnover ratio was outstanding (117 assists to 60 turnovers), and he played all 120 minutes in the CAA Tournament without committing a single turnover.

Beyond the statistics, though, Rivera does the little things to make his teammates better. He will take the toughest defensive assignments on the perimeter to prevent Stokes and Agudio from wearing out down the stretch. He will sometimes even guard post players to allow the Pride to go small and give the team more match-ups to exploit on offense.

He knows where to get the ball to Stokes and Agudio where they can do the most damage, and even though he came in with a reputation as a lights-out three-point shooter, he will routinely pass up open looks to get his teammates shots.

"Antoine is such a good shooter, and Loren is so tough off the dribble, that I like setting those guys up to make plays," said Rivera. "Those guys are great scorers, so I try to get those guys shots, and do a little bit of everything to help us win. Some days that means shooting a little more, but if Loren and Antoine are putting up big numbers and we're winning, I'm perfectly happy."

Stokes has passed the 2,000-point plateau and has a chance at breaking the school record of 2,222 points, which has stood for 42 years since Steve Nisenson set it (1962-65). If he does break it, he might only hold it for one year, as Agudio is ahead of pace to break it next season. Rivera recently joined his teammates in the 1,000-point club at Georgia State on Jan. 24, giving the Pride a three-man backcourt of 1,000 point scorers.

He also has plenty of clutch baskets on his resume. Two years in a row, he has hit huge shots in overtime to help the Pride win at Drexel, including the game-winner with 36 seconds left this year. He also hit a clutch jumper before the shot clock expired in a five-point home win over Towson, while his pull-up three-pointer with the shot clock again winding down was the dagger that helped Hofstra defeat St. John's for the fourth season in a row in the Holiday Festival championship.

Rivera has certainly earned the appreciation of his head coach. "Carlos is as tough as they come," said Hofstra Head Coach Tom Pecora. "The best thing I can say about him is that he always competes - every game and every practice, he is always leaving everything out there. It's like coaching a boxer in basketball shorts."

Rivera and Stokes will be honored on Saturday for their Senior Day, prior to the Pride's Bracket Buster game against Holy Cross (the ceremony will begin at 2:45, prior to the 3 p.m. tip). They are part of arguably the greatest recruiting class that the Pride has ever brought in (although Agudio will wait until next year for his Senior Day after redshirting). This year's senior class has won 80 games in four seasons and is one victory away from reaching 20 wins for the third year in a row, including a school record 26 last year.

And while Rivera might have looked destined to be a 2,000 point scorer himself when he started his career, he certainly has no complaints about the way things turned out. "It's been great that we've been able to accomplish as much as we have," said Rivera. "We only won eight games the year before we came in, and last year we tied the school record. Now, we just want to go to the (NCAA) Tournament."

It would be the ultimate way for the ultimate teammate to end his career.














































































































































Escríbenos. Nos gusta saber de ti. Publicaremos todos los mensajes de apoyo.
atletic@atleticos.org
!Estamos en vivo por internet!
Para escuchar el juego, a la hora del juego oprima aquí o a la izquierda Escuchar juego y luego Go-Live.
Transmisión Radial
Los juegos de los Atléticos de San Germán serán transmitidos a través de WAEL 600 AM y por internet a todo el mundo.


Oprima foto para agrandarla
_________________
Comtamos con el Jugador Más Valioso de la Temporada 2004, Christian Dalmau
Comtamos con el Jugador del Equipo Nacional de Puerto Rico Rick Apodaca
Y Contamos con el major equipo
(oprima sobre foto
para agrandarla)
Get a GoStats hit counter